Showrunner™ is an advanced, adaptable and acclaimed master lighting control platform controlling over 1500 commercial sites of all sizes and many large residential homes.

There is significant new functionality on the roadmap for release over the next 6 months in addition to the standard cadence of enhancements.

This new functionality is focused on expanding the vision of Easy Control with Insight.
Easy Control with Insight
The showrunnerHUB™ graphic UI is the vehicle for achieving Easy Control with Insight. The showrunnerHUB™ UI runs in a browser on a computer, tablet or phone. Perfect at facility control station or on a mobile device.

Easy Control: Optimize automation, scenes, and devices from a single UI – showrunnerHUB™.

Insight: Quickly view status, get alerts, determine the root cause of issues, and resolve issues in a single UI – showrunnerHUB™.

Easy Control with Insight is currently provided in the standard showunnerHUB™ UI, optional floorplan control, and soon to be released Dashboards.
Use Case Facilities – With Staff
Studies have noted that walking is the costliest activity of facilities operations. The Easy Control with Insight vision is to save time, money, and improve responsiveness by preventing issues, and when an issue occurs to eliminate wasted time "walking".

An issue reported for an Area can be investigated with a tap or click, without taking a single step. Controls can be operated, device status viewed, and last control action by device is displayed to best understand the root cause of the problem and to take action to resolve the problem.

Lighting control "Apps" used to startup, set scenes, and control lights are effective and valuable. Maintaining or troubleshooting lighting control requires being in the Area with the App, which requires walking. And Apps do not deliver advanced and adaptable master control capabilities.
Use Case Facilities – No Staff
Large numbers of facilities are only operated by staff to perform the business functions with no onsite facility support. Showrunner™ can operate these sites in fully automated mode. The staff only needs alerts of issues and a process to resolve. Easy Control with Insight Alerts inform the onsite manager if an issue arises. The onsite manager can access contact information in the showrunnerHUB™ UI to seek remote assistance.
Dashboards enhance the Easy Control with Insight vision by displaying key relevant information on one screen.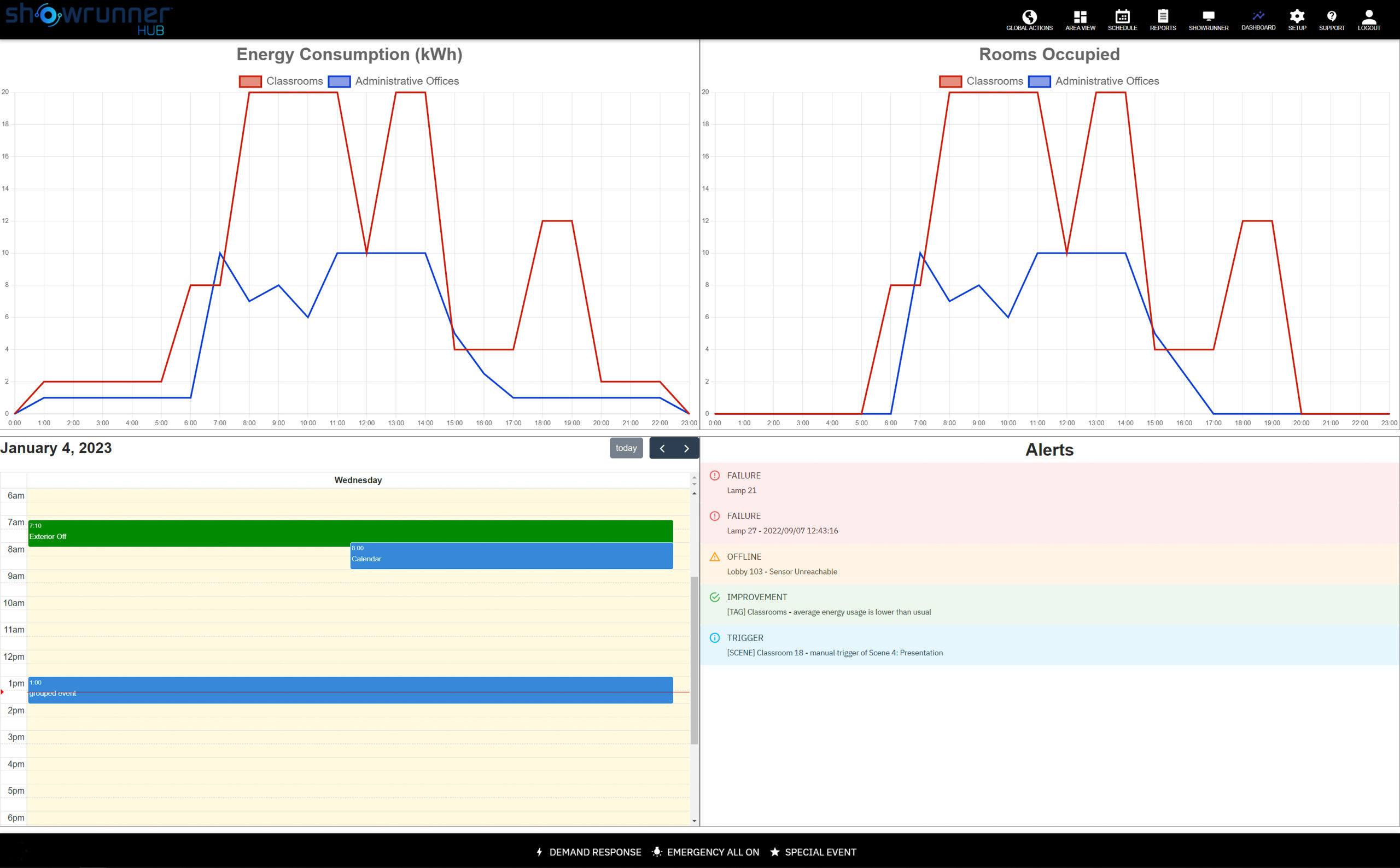 The above Dashboard shows Energy Consumption over a 24-hour period and Room Occupancy over a 24-hour period. There should be correlation.
Active Schedules are displayed. Each schedule can be queried or edited by clicking or tapping the schedule in the Dashboard view, if showrunner™ security access is permitted for the logged in user.
Alerts draw attention to countermeasures required and include actionable information.
Floorplans have been available with showrunner™ for over a year. On the roadmap is the inclusion of additional hardware that can be placed on the floorplan with increased insight from device and increased control of each device.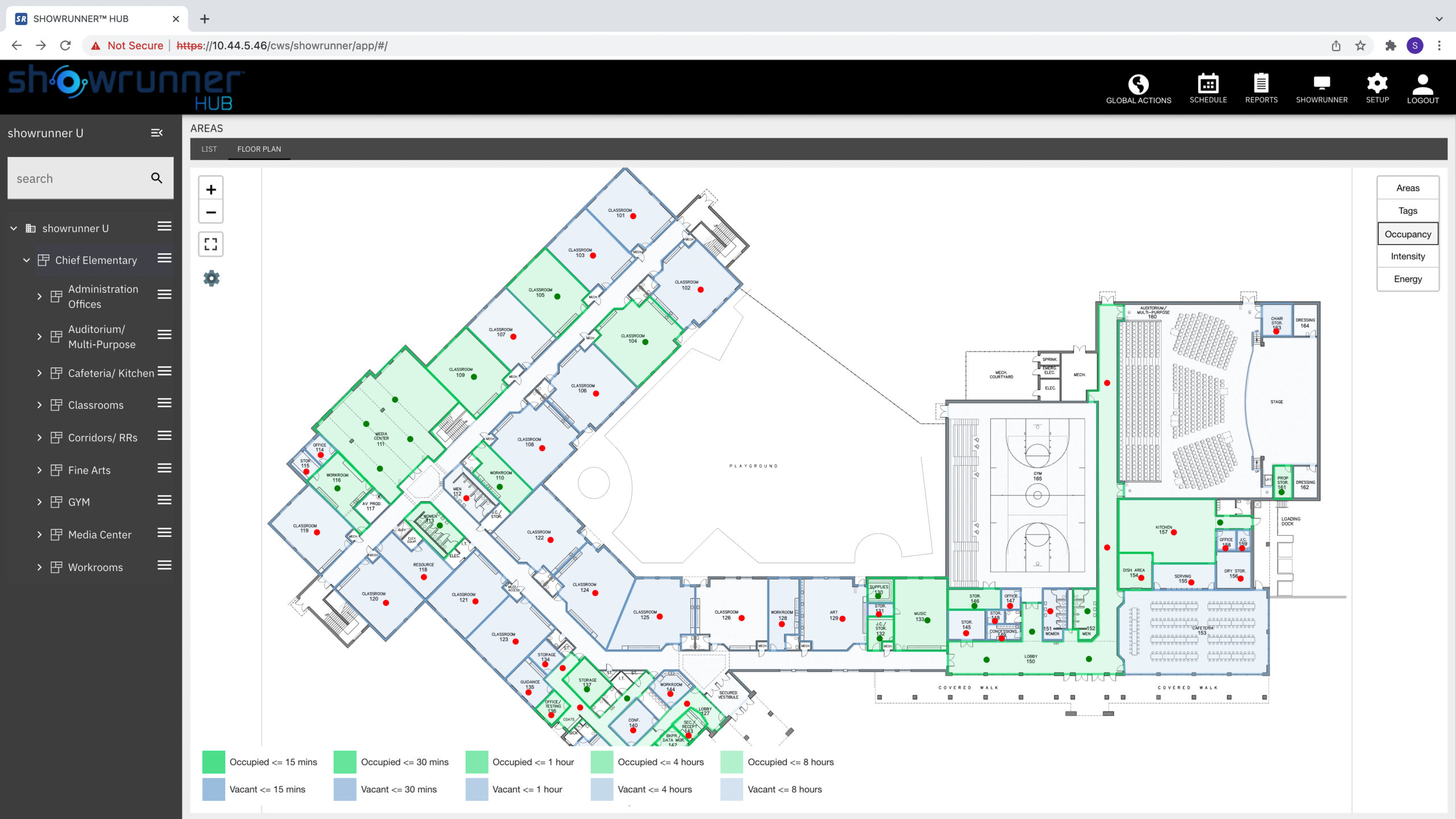 Showrunner™ currently runs on an appliance. Soon showrunner™ will run on a PC.  Showrunner™ on a PC will:
Provide data storage for reporting, such as energy reporting. If showrunner™ is running on an appliance, an on-premises PC can be integrated for data storage to power robust reporting.
Expand the hardware eco-system for showrunner™ master control.
The server can be a DIN-RAIl mounted appliance grade computer or data center grade server.
Showrunner™ can support multi-site installations now, but not in an elegant way that meets Chief Integrations standards for showrunner™. Later in 2023 showrunner™ will have elegant multi-site support.
Imagine scheduling and monitoring all of the schools in a school district, or hundreds of chain stores from a single pane of glass. Showrunner™ will deliver that capability following the Server Addition.
Following the PC port, showrunner™ will be able to deliver a wide range of robust reporting based on data captured and stored on the PC.
ShowRunner Gets It Done - Auto-SwitchingGreat news! Crestron recently issued a firmware update for Zūm wired that includes "auto switching" from CNET mode to APP mode if the network or processor goes down, and then back to CNET mode when the network is restored. Zūm...
read more