Showrunner™ is an Advanced and Adaptable lighting control software platform capable of executing the most detailed of a lighting designer's vision while empowering the facilities staff with easy control.
DMX colored lighting control, including tunable white, is specified by lighting designers to enhance architectural interest, elicit emotional responses, and to focus attention. Precise execution of color, intensity, scenes, and scene transitions is essential to achieving the lighting designer's goals. The lighting controls must be tunable to achieve the required performance and must be easily managed by the onsite facilities team.
Showrunner™ Area Control Screen
Individual loads in an Area are configured by the load type. Please see our post on Human Centric Lighting for details on tunable white.
Showrunner supports up to 20 scenes per Area. This large number of supported scenes confers a significant benefit when using showrunner's™ advanced scheduling capabilities to automate DMX scene selection.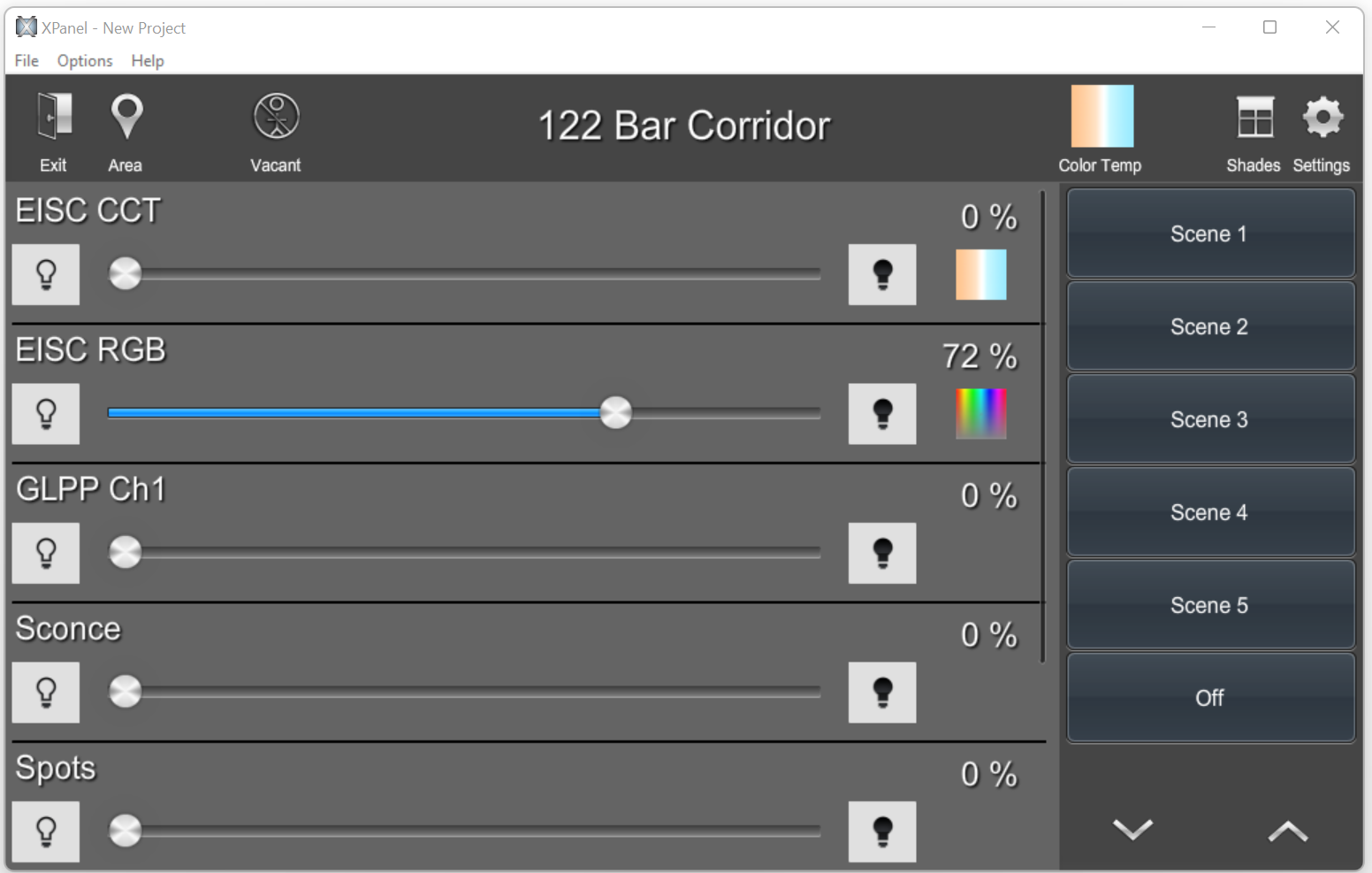 RGB color can be set using the color picker or typing in the desired value to achieve the precise designer specified color. Each individual RGB zone can be "tuned" to achieve the desired look in an Area or adjacent Areas.
Showrunner's™ advanced date pattern scheduling capability makes it easy to schedule to achieve the desired look at the optimum time.
DMX scenes can be scheduled to transition throughout a day. Additionally, a popular use is to schedule scenes to celebrate events or bring awareness.
Healthcare systems use showrunner's™ DMX scheduling capabilities to change exterior and interior lighting colors to bring awareness to Breast Cancer Awareness Month, or Sepsis Awareness Month, for example, by scheduling a saved scene.
Shopping malls may schedule for the local teams' colors for opening the season, Fall colors, Holiday colors, or many more milestone events.
There are unlimited use cases with showrunner's™ advanced scheduling capability.
Setting and Securing Scenes
Scenes are saved and secured. Once the scenes are set, facilities staff can "lock" a scene so it can be accurately reused in the future. Showrunner™ has multiple layers of security.
Showrunner™ is a single software platform for networked lighting control technologies that includes DMX control. Showrunner™ "speaks" Native Pharos and integrates with sACN/ArtNet to support a wide range of DMX controllers in a networked lighting control system.

For further information on showrunner™ go to www.chiefintegrations.com/showrunner or email gene.kohlmann@chiefintegrations.com.
Chief Integrations is a commercial control programming and commissioning company dedicated to accelerating our customers' success.
Pharos® is a "mark" of Pharos Architectural Controls Limited and the presence of this "mark" is not an endorsement. 
ShowRunner Gets It Done - Auto-SwitchingGreat news! Crestron recently issued a firmware update for Zūm wired that includes "auto switching" from CNET mode to APP mode if the network or processor goes down, and then back to CNET mode when the network is restored. Zūm...
read more